Whale Watching On Molokai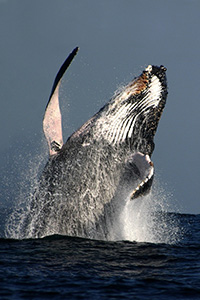 Humpback Whale Watching on Molokai is some of the best you will find anywhere – from December to April every year an estimated 10,000 – 12,000 whales migrate to Hawaii to breed and give birth to their young.
In the waters off of Molokai's south coast (between Molokai, Lanai, & Maui) an estimated 75% of those whales can be found! So, if you are looking for a private and up close experience these amazing creatures, we'll be thrilled to escort you.
During the peak of whale season in Hawaii, humpback whales can easily be found fin slapping, jumping, breaching, and diving. While in Hawaii, male Humpbacks are searching for female mates, so if you are lucky, you might even get to encounter a pod of males in pursuit of a female!
It is thought that male humpbacks "sing" to help entice a potential future mate, a sound that is hauntingly beautiful and calm. During our excursions, our boats are equipped with hydrophones, which enable us to actually hear the males serenading the females. A truly amazing experience!
So come join us as we search the Kalohi Channel for these amazing creatures. We can't wait to show you more about these marine giants!
Whale Watch Tours
The very best way to experience whale watching on Molokai is to get out on a boat tour. Although the whales can be seen from shore, to truly appreciate these amazing creatures, you'll want to be close to them.
Our whale watching tours depart Kaunakakai Harbor daily during whale watching season (Dec 15 – Apr 1).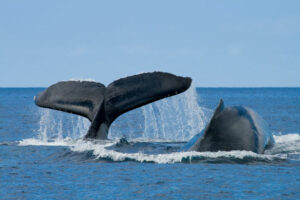 When you join us, we guarantee whale sightings, or you can join us on the next tour free of charge.
During our tours, the captain, crew and passengers work as a team to spot the first whales. As we get closer we turn off our engines and enjoy!
Whales are very curious creatures and will often quietly surface right next to the boat to see what we are doing. We will also put the hydrophone in the water so you can hear the males "singing" to the females.
Your tour will provide an unforgettable experience as you witness these fascinating creatures playing and traveling throughout the Hawaiian islands.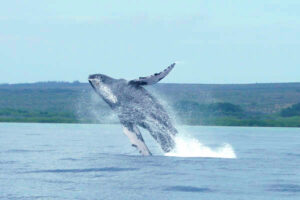 The Boats
All of our whale watching excursions are aboard one of our 3 US Coast Guard certified T Vessels – the Nai'a, the Ama Lua & the Coral Queen. (Click to enlarge)
Nai'a– Molokai Dive Boat
46 foot Newton Dive Special
Coast Guard Certified for 49 passengers
Twin Cumins Turbo Diesels
Coral Queen– Molokai Dive Boat
38 foot Delta Dive Boat
Coast Guard Certified for 28 passengers
Upper Deck for superior whale viewing
Hydro phone equipped – enabling you to hear the males "sing" to females
Detroit diesel
Ama Lua– Molokai Dive Boat
32 foot Ocean Power Catamaran
Coast Guard Certified for 16 passengers
Hydro phone equipped to let you listen to males "sing" to females humpbacks
Twin 150 Evinrude Engines
Prices
Adults – $109
Children (7-12) – $89
Children (3-6) – $75
Children (Under 3) – Free